It's not always necessary to reinvent the wheel, but reinventing oneself is a ceaseless process. A career in graphic designer means practicing this act of metamorphosis on a regular bases. The ever-changing challenges that come with the territory are what make my job exciting! When a new client approaches me with an amazing ideas, a project that pushes me to be better, concepts emerge from a mastermind of collaboration with opportunities to tell engaging stories, and a chance to positively effect change through the power of design… that's why I'm here.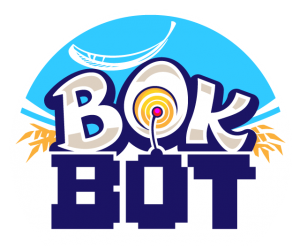 Logo design for BOK BOT – Smart Chicken Coop Solutions
My newest client is an advocate for positive change, alongside fowl feathered-friends. BOK BOT provides smart chicken coop solutions and consulting that makes caring for chickens easier. I had the pleasure of attending this year's Hack for Change at Saint Edward's University in Austin, Texas with BOK BOT founders John Van Lowe and Josh Cox. During John's 1-minute pitch he explained that with Austin's zero waste initiative, residents are encouraged to keep chickens! This is an attempt by the city to cut food waste from the landfill by encouraging sustainable practices, keeping chickens, and composting.
While city-slickers are eager to get their very own birds, there is much to learn before picking up chicks. The city of Austin now provides free chicken-keeping classes and a $75 rebate on a new coop. By promoting sustainability, Austin has opened the coop to a tech-savvy community who are wired for innovation. Data scientists can now collect data, and much more, with their very own backyard chicken coop BOK BOT!
The good folks at BOK BOT are developing systems that monitor environmental conditions, helping your chickens stay healthy and safe! Chicken-keepers will receive alerts when air quality is poor. Motion sensors and optical recognition will detect predators and activate defenses. An automatic door will open at dawn and close at dusk. Water levels will also be monitored.
To learn more and get involved, visit bokbot.org.